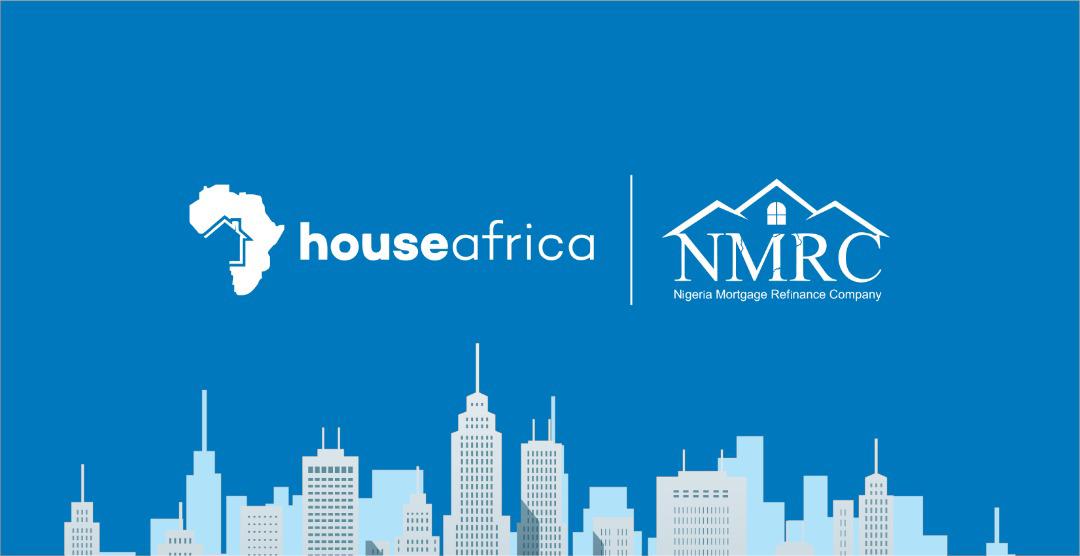 HouseAfrica.io Partners NMRC For Property Title Authentication and  Verification System Powered by Blockchain
Abuja – July 22, 2020
HouseAfrica.io – a blockchain startup focusing on real estate, today signed a partnership agreement with Nigeria Mortgage Refinance Company (NMRC), to deploy a digital land/property title authentication and verification  system called Propvat.com. 
The system will make it possible for individuals and organizations – including Financial Institutions – to  authenticate, validate or confirm the value of any Property or Land across Nigeria and ultimately improve the amount of mortgage financing transactions in Nigeria. 
NMRC made the announcement on Twitter ahead of the Virtual Abuja International Housing Show..
Speaking on the partnership, Taofeeq Olatinwo who is head of ICT and Business Process Operations at NMRC said, " NMRC is delighted to partner with HouseAfrica in solving  the land titling issues to strengthen the housing market in Nigeria."
Also speaking on the Partnership, Nnamdi Uba, Co-founder and CEO of HouseAfrica.io, explained that the partnership will unlock a lot of opportunities for Nigerians. 
"The partnership will help to unlock trapped assets and capital in residential real estate valued at over 300-900billion USD. and then wealth creation through increased access to credit and growth in mortgage penetration by as much as 3% – 5% of GDP over a 5-10-year period (subject to increased adoption and user rates)." 
On his part, Ndifreke ikpoku, Co-Founder and COO at HouseAfrica said "The partnership is another milestone for us, the Nigerian real estate space and  blockchain family."
The company is currently onboarding Lawyers and Estate Valuers on the portal at Propvat.com. 
About NMRC
The Nigeria Mortgage Refinance Company (NMRC) was licensed on February 18, 2015 to promote delivery of affordable housing to Nigerians through mortgage refinancing. 
About HouseAfrica
HouseAfrica.io is a real estate focused start-up headquartered in Nigeria, leveraging emerging technologies like Blockchain to make property transactions secure, transparent and affordable.
In 2019, the startup won the "Best African Blockchain Startup at the 2019" at the AfricArena Conference – Fantom Blockchain Challenge and was also amongst the elven startups selected for the AfriTech accelerator 2019 cohort.
Contact
Name: Uba Nnamdi. 
Phone: 08068960835
eMail: hello@houseafrica.io 
CryptoTVPlus Announces the Commencement of Blockchain & Cryptocurrency Awareness Tour – BCAT 2020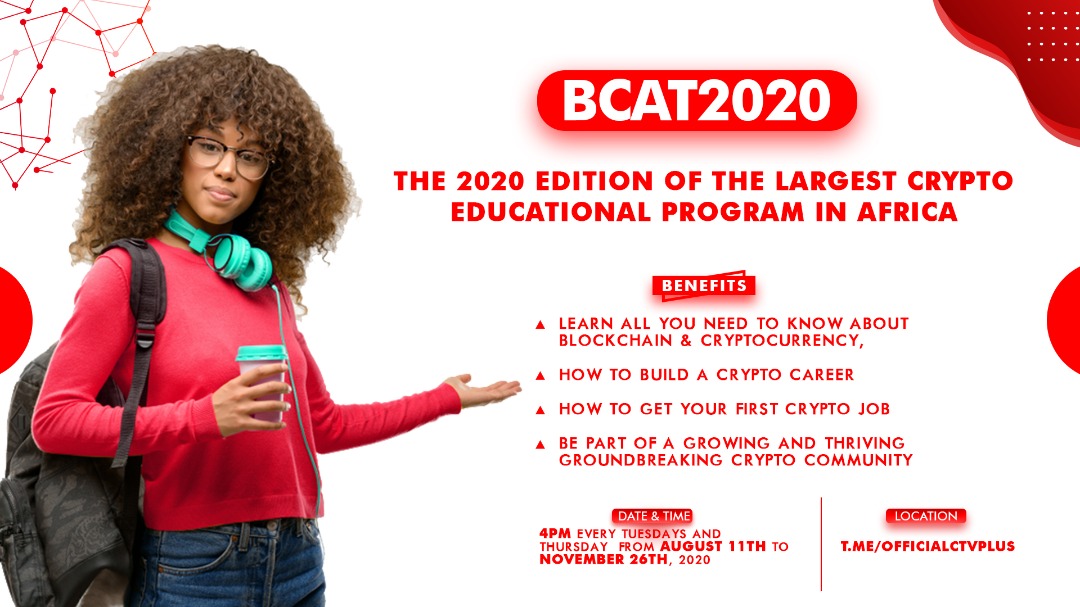 CryptoTVPlus announces the commencement of the 2020 Edition of Blockchain and Cryptocurrency Awareness Tour – BCAT 2020.
BCAT which is also known by those in tertiary institutions across Nigeria as Campus BCAT is a nation wide tertiary institution cryptocurrency and blockchain awareness program designed to teach people about blockchain and cryptocurrency, guide and mentor them and help them to build a career for themselves in the industry.
In 2019, prior to COVID-19, the BCAT event was held in several universities across Nigeria where over eight (8) thousand students were exposed for the first time to blockchain and cryptocurrency by a wide array of experienced professionals in various sub-sectors of the crypto industry.
The 2020 Edition of BCAT will commence on Tuesday, the 11th of August to November, 2020.
Participants will enjoy one on one interactions with seasoned professionals where they will learn amongst other things; introduction to the concept of money and cryptocurrency, how blockchain technology works and how to exploit it for their greater good.
Participants will also be expected to learn how they can position themselves in the cryptocurrency industry, gain the tools and right exposures, skills and competencies necessary to building a career in the crypto industry.
Speaking on the commencement of BCAT 2020, CEO of CryptoTVPlus, Tony Emeka said;
"The global pandemic must not stop us from spreading the word on blockchain and cryptocurrency. We owe it to those in the Nigerian community to continue our evangelical movement of crypto awareness. It's our goal to exploit available tools, to reach out to thousands of people across Nigeria, and help them come to understand how truly revolutionary the technology is and could be."
The Blockchain and Cryptocurrency Awareness Tour is yet again moving, bringing cryptocurrency education to those it matter most.
To register, click here
Join our Telegram Community