Businesses Can Now Accept Ether as BitPay Add Support for Ethereum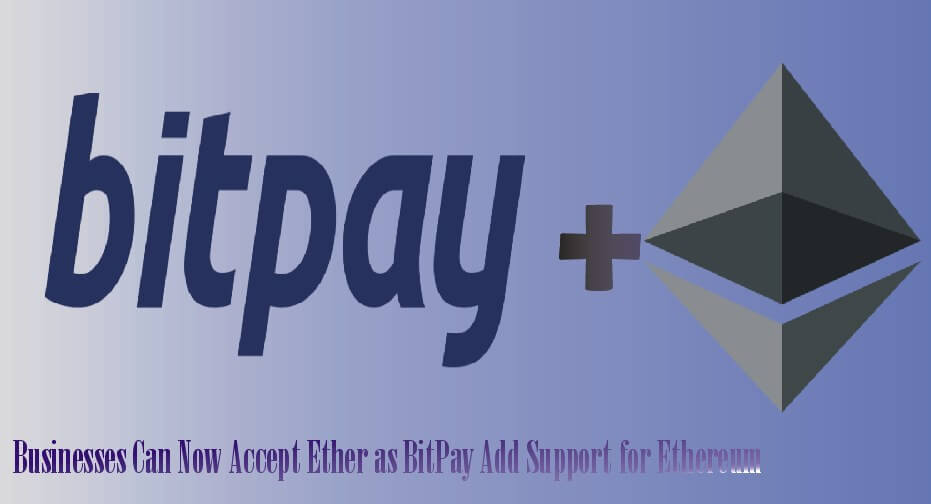 Largest global blockchain payment processor Bitpay has announced customers will soon be able to safely, securely and compliantly accept Ethereum for purchases without the need for any further integration.
It also revealed that wallet users will be able to store and use the second largest cryptocurrency by market cap in their wallet and BitPay Prepaid Visa Cards holders can top up debit cards.
BitPay formerly supports Bitcoin and Bitcoin Cash and has now added Ethereum to its list of supported digital assets on its payment processing platform.
Accesses to foreign exchange in some jurisdiction is a challenge to businesses and with the advent of bitcoin, businesses can easily and effortlessly receive payments from all over the world from users with the three supported cryptocurrencies.
BitPay speaking on the achievement was quoted saying "It is exciting to see BitPay leading the way in integrating Ethereum into global payment systems," said Vitalik Buterin, founder and creator of Ethereum. "This truly opens up a new world of possibilities for the Ethereum ecosystem, and together we can continue to be a leading innovator for real world use cases for cryptocurrencies."
BitPay offers stable coin settlement with Circle CENTRE USDC, Gemini Dollar (GUSD), and the PAX as well as in 12 currencies and direct deposits in 37 countries.
According to BitPay, it calculates prices displayed on invoices in 150 countries and can settle in over 200 countries. It further said that, for merchants who desire to be settled by bank transfer, the transfer is initiated the next day and cryptocurrency is settled the next day.
BitPay was founded in 2011 as the pioneer bitcoin and blockchain payment with large number of merchants already using its payment processor such as Microsoft, Newegg, Dish Networks etc. It enables users to manage digital assets with the BitPay walllets and turn digital assets into dollars with the BitPay Visa Card.
Italian Football Club Juventus Now Has Its own Crypto Token $JUV. 
Italian football Club Juventus has partnered with sports focused blockchain firm Socios.com to launch a cryptocurrency token $JUV.
Socios.com is the world's first blockchain-based fan voting and rewards platform. A tokenized voting platform that gives fans the power to crowd-manage their favorite sports teams.
The token which football fans can purchase via the Social' App grants holders the right to vote on certain club decisions and earn rewards.
In sport focused token offering 'Fan Token Offering FTO™, a significant number of the 20,000,000 total supply the JUV token is already available for sale to interested fans.
Giorgio Ricci, Chief Revenue Officer of Juventus speaking on the development said;
"We are proud to be the first Club to be activated by Socios.com on its platform, inaugurating a new way to interact with our fans around the world".
The price of $JUV will fluctuate according to supply and demand once the marketplace feature is launched, and Fan Tokens can be traded by fans on exchanges.
Alexandre Dreyfus, the founder and CEO of Socios.com who also commented on the partnership between both organizations said;
"99.9% of sports fans are not in the city/country of the team they are supporting. We created these fungible fans tokens to allow fans to have an influence over some fan-based initiatives".
$JUV is currently priced at around €2 (~$2.2) apiece. A limited number of these tokens are also available for free via Socios app's Augmented Reality feature, Token Hunt.
According to Socios.com, it also has other clubs that are ready to join its platform and six are already lined up for tokenization by Q1 2020.
These include Paris Saint-Germain (PSG) and Atlético de Madrid (tokens for which will be launched in late January); West Ham United, Galatasaray and A.S. Roma (in February) and esports provider OG (in March), per the announcement.
The Socios app is available to download for Android and iOS users can apply for a beta version of the app.