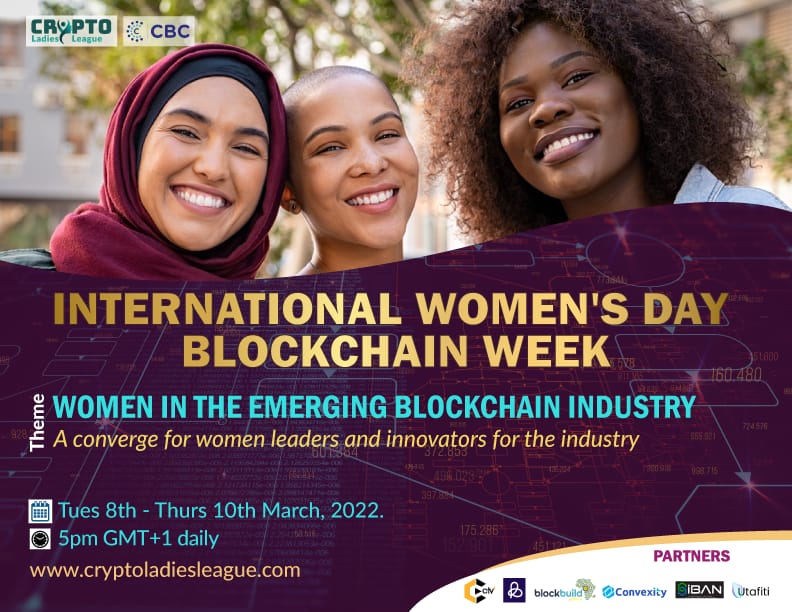 Commemorating the International Womens' Day, Crypto Ladies League is set to host her First Public Event/ "Blockchain Week"
30 Speakers, 3 Panel Sessions!
To commemorate International Womens' Day, the Crypto Ladies League, a network of women in the blockchain sector trying to create an ecosystem that unites women within and beyond the borders of Africa in the ICT realm, is hosting its first public event.
The three-day conference, titled "Women in the Emerging Blockchain Industry," aims to raise blockchain awareness, promote digital education, and encourage more women to participate in the crypto ecosystem.
This is a virtual event that will run from Tuesday, March 8th, 2022, through Wednesday, March 10th, 2022, at 5 p.m. GMT+1.
Exceptional women in the industry will be featured in intriguing educational lectures and panel sessions with the aim of:
Educating participants on the knowledge and skills required to effectively leverage in the blockchain industry.
Enabling more women to become active members of the ecosystem, in a variety of areas and career pathways.
Creating pathways for women to access the ecosystem's opportunities and advantages.
Encouraging more women to participate in the growing industry as innovators and leaders.
The Panel Session will cover topics such as:
Women in Crypto: Managing day job, business, career, and crypto trading. Panelists include: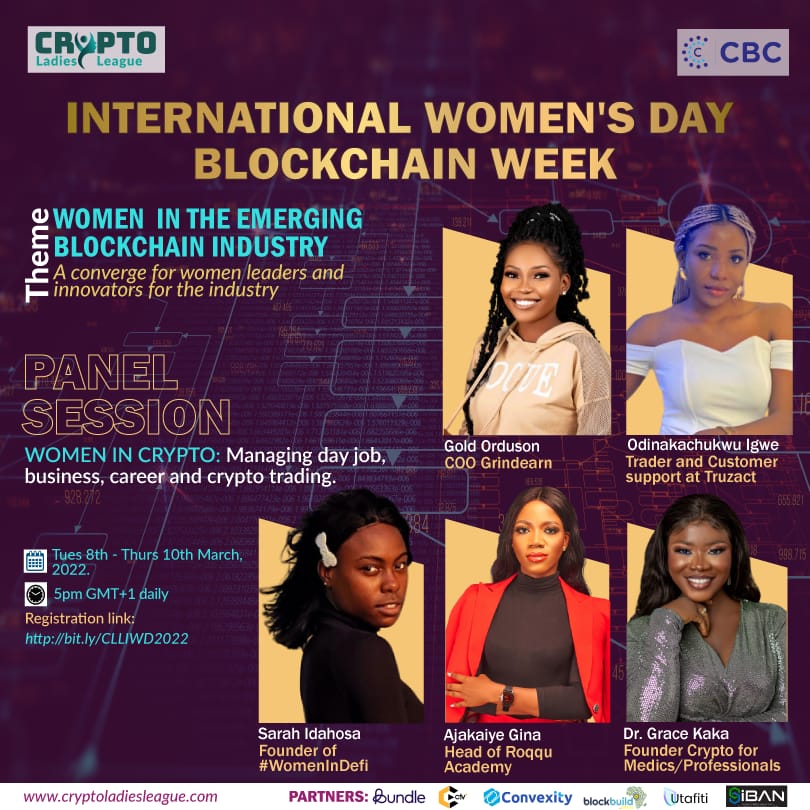 Odinakachukwu Igwe
Gold Orduson
Grace Kaka
Gina Ajakaiye
Sarah Idahosa
Delight Gbujie
The Importance of Blockchain Communities as an enthusiast. Panelists include: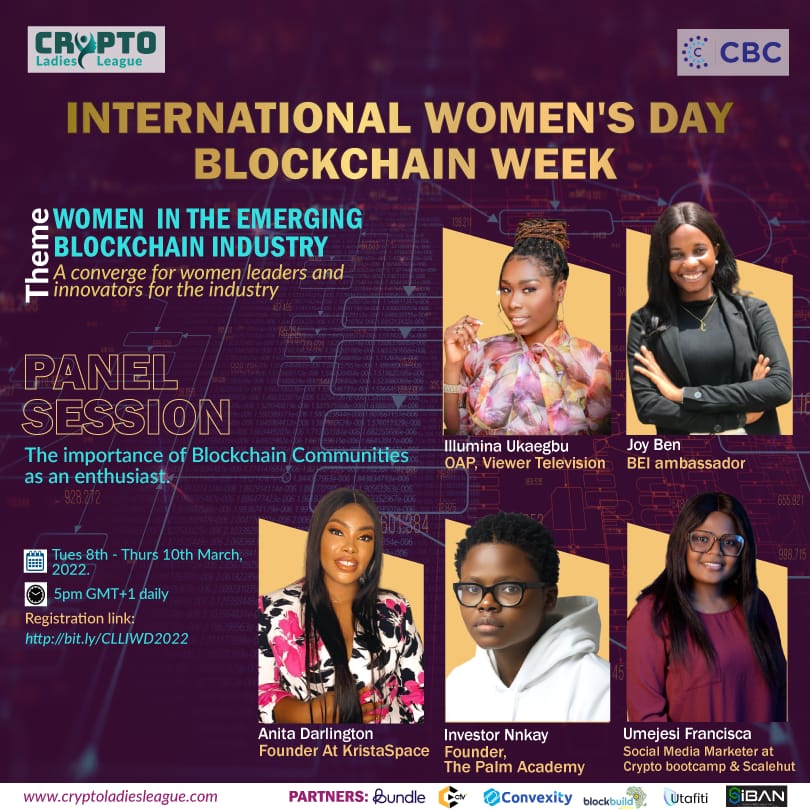 Illumina Ukaegbu
Freda Amodun
Umejesi Francisca
Investor Nnkay
Joy Ben
Anita Darlington
Exploring different sectors of the Blockchain Industry and ecosystem. Panelists include:
Delight Gbujie
Kristen Haruna
Chioma Onyekelu
Ileke Airende
Ayere Prosper
Sarah Idahosa
Intriguing topics to be discussed by the speakers include:
Keynote speech: International Womens' Day Blockchain Week – The 21st Century Tech Woman by Roselyne Wanjiru
Keynote speech: Women in the Emerging Blockchain Industry As Leaders and Innovators by Yaliwe Soko
The Importance of Effective Communication Towards Mass Adoption of Technology by Faith Aimoi.
The opportunities of Remote Jobs in Blockchain and Crypto Industry by Faith Braide
Solving The Challenge Of Financial Inclusion With Blockchain and Cryptocurrency by Yvonne Kagondu
Moving From The Buzz To Real Application Of Blockchain Technology by Modupe Ativie
The Growth Of Women in Modern Day Tech Work Space by Chidubem Emelumadu
Cryptocurrency As a Tool For Wealth Creation by Dr. IB MacDonald
Building Blockchain Solutions From Africa For Global Consumption by Karla Obakpolor
The Future of Tech and The Role of Women by Timileyin Soyemi
Creating an all Inclusive Blockchain Ecosystem by Olga Yorashevsky
Innovation in Blockchain And NFT, And The Need For More Women Innovators by Teresa Chan
About us
Crypto Ladies League represents an association of women in the blockchain industry seeking to create an ecosystem that connects women within and beyond the borders of Africa in the tech space, promotes the awareness of crypto, and also fosters mainstream adoption of blockchain technology and its numerous use cases.
Women from all around the world can interact and build a sustainable network that explores the potentials of blockchain and decentralized finance.
The League was established in March 2021, by Obinna Iwuno, founder of Africa's leading blockchain community– Crypto Bootcamp, Executive Secretary of the Stakeholders Association of Nigeria [SiBAN], and an expert with dexterity in the crypto & blockchain field who is oriented towards facilitating digital education that appeals to all strata of society.
Partners:
Blockbuild
Convexity
SiBAN
Utafiti
Bundle
For more information, please visit www.cryptoladiesleague.com
Register here for the event: http://bit.ly/CLLIWD2022
Media Contact:
Prudence Chioma
+234 806 777 8544