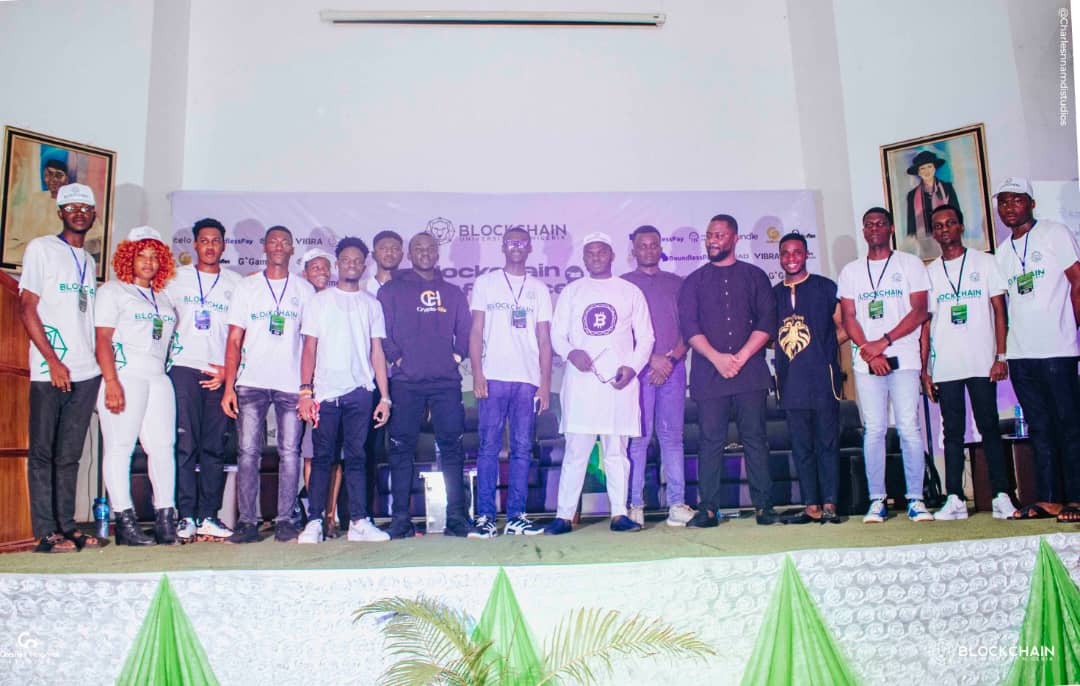 BlockchainUNN Successfully Holds 'Blockchain Conference 2022' with Outstanding Attendance
The year 2021 closed with the emergence of technologies and rise of Tech companies like Meta. In 2022, Web3, Blockchain has become an increasingly used word. Despite its popularity, many still wallow in the ignorance of the terms and even the opportunities they offer. It's common to hear remarks like; " it's not for me", " I am not techy" etc.
To bridge this Communication and Information gap, BlockchainUNN, a Blockchain Campus Club at the University of Nigeria Nsukka took up the task to educate the masses through its conference themed, "Demystifying Blockchain; the Technology behind Cryptocurrency".
BlockchainUNN is a campus blockchain club created at the University of Nigeria aimed at promoting blockchain adoption within the university environment. Founded by three innovative students and key players in the drive for mass adoption; Okoye Kevin Chibuoyim (Ezemmuo Blockchain) , Nduka Annaelechukwu Anthony, and Okechukwu Victor Alvan.
The club educates, impacts and develops members of the university and enthusiasts with proper knowledge of Cryptocurrency and Blockchain, teaching them how to leverage on blockchain technology in their everyday activities. They also help young minds develop skills like crypto trading, blockchain Development, and other digital skills like community management, social media, content creation, etc.
The conference was held on Saturday, 5th March, 2022 at Princess Alexandra Auditorium, University of Nigeria Nsukka by 10am WAT.
Speaking about the vision and motive behind the conference, the Convener and co-founder of Blockchain UNN, Mr Okoye Kevin Chibuoyim ( Ezemmuo Blockchain) said, "Blockchain is a technology that houses Cryptocurrency and various ideas. It is important to demystify it, to enable young people get a proper grasp on it, expose themselves to this game changing technology and take advantage of the numerous opportunities it presents".
The team lead, Mr Nduka Anthony who spoke also said , In a nutshell, the goal of the conference was to unravel the mysteries behind Blockchain, debunk the myths and reinstate the facts clearly. As well as exposure youths to mode opportunities in the space.
At the conference, Blockchain, DEFI, Cryptocurrency, Web3 and the Metaverse were explored and properly explained to the participants. Specifically, the topics explored were; "Keying into blockchain and crypto as a student" , "Starting up in web3 and blockchain development" , "Exploring NFT's, Blockchain, DEFI and its applications", "Starting a media career in Crypto and Blockchain".
The speakers were industry leaders and experts with years of experience. In no particular order, the speakers were;
Okoye Kevin Chibuoyim (Co-founder, BlockchainUNN and convener of the BlockchainUNN 2022 conference); Franklin Peters (CEO, Boundless Pay) who joined virtually; Chimezie Chuta (Founder, BNUG) who joined virtually; Abasi Ibiangake Udoka (Community lead at Blockchain Uniben); Hiliary Azubuike (Founder, CryptoHills academy); Obiajulu Onyema (Author, NFT money guide); Abuchi Michael (SUG President, UNN) and Tony Emeka (CEO, CryptoTvplus)
To organize this conference, Blockchain UNN collaborated with several projects in the Blockchain ecosystem who wholly decided to support and sponsor this great blockchain conference. The sponsors and collaborators were; the Students Union Government, University of Nigeria Nsukka; CELO, Web3Bridge, Buffex, Secret Network, Gamestar, Bundle, Vibra, Octopus network, RACA, Boundless Pay and Lead Wallet.
Furthermore, up to N300,000 worth of Giveaways, including, A brand new Laptop, Scholarship to two students, Recharge standing fan, and BlockchainUNN branded merch were given out by BlockchainUNN to students who attended the conference.
All the Brands and Sponsors equally had amazing giveaways ranging from Laptops, Scholarships, Trading Capital and Merchs given to attendees.
Over 1000+ we're in attendance physically, with more streaming online. People came in from Lagos, Kano, Benin, Imo and various parts of the South East to witness this blockchain conference, the first and Premier Blockchain Conference in the South East!! .
It was an ample opportunity to connect with like minds and boost one's professional network. Blockchain UNN indeed blazed the trail with the FREE Blockchain 2022 conference.
Blockchain UNN is a pacesetter and leading in the drive for adoption of blockchain in the South East. We look forward to seeing more young scholars doing great things in the blockchain and crypto space.
You can connect with BlockchainUNN by joining their telegram group at; https://t.me/BlockchainUNN
You can equally follow them on Twitter, Instagram and Facebook: @BlockchainUNN
Kudos to the team and organizers of this event: Nduka Annaelechukwu Anthony, Okoye Kevin Chibuoyim (Ezemmuo Blockchain),  Okechukwu Victor Alvan, Eze Thiago Stanley , Favour Umoren, Michael Anazodo, Bell Omuboye, Apollos Kingsley, Smith Kalu, Ogbonna Shedrack, Amarachukwu Grace, and Anita Darlington.
You can watch the highlights and full video of the conference by visiting their YouTube here: https://www.youtube.com/channel/UC4qCzzFPd6IBB44Hp6Ng8CA.
We anticipate the 2.0 of this conference because the version 1.0 was definitely mind-blowing.
What do you think of this article? Share your comments below.