Introducing Zardicon Trading Platform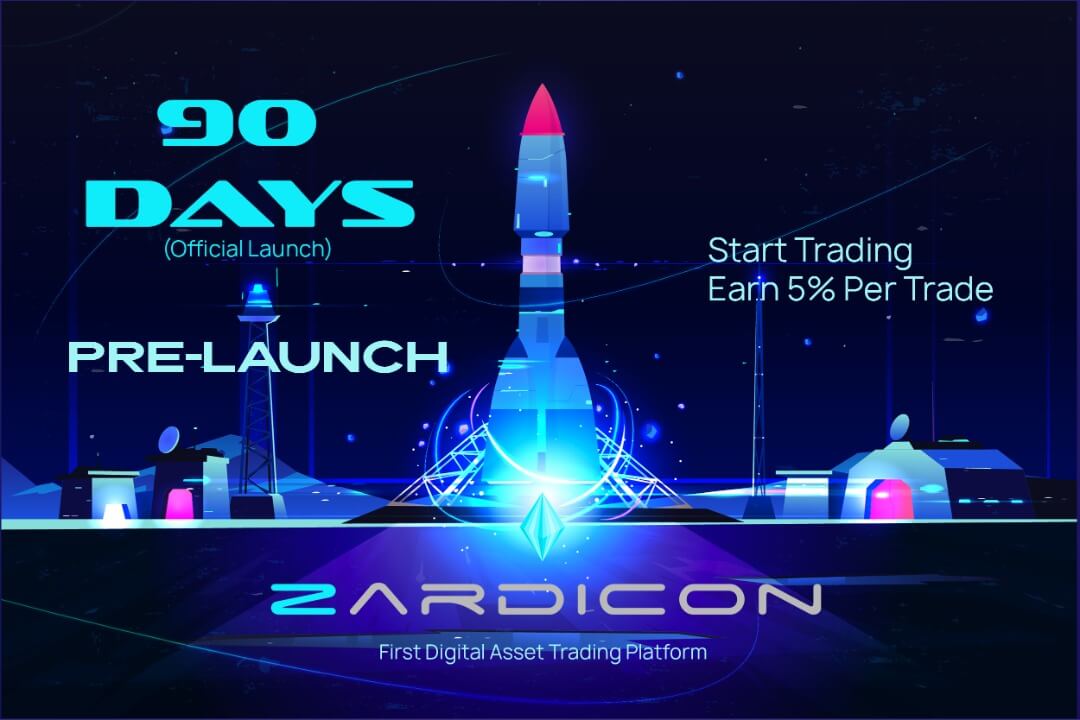 Trading Crypto currency has been the Trending Trade derivative in the digital space. Have you heard about Trading Digital Block Asset known as Zardicon Blocks?
There is some thing new in the digital space called "Trading Digital Blocks". Imagine trading digital blocks powered by Blockchain Technology! This is new indeed and I am very sure you want to know more about this platform. Hop on board, let's cruise together.
What is Zardicon Trade?
Zardicon trade is a unique trading platform powered by blockchain technology. All transactions on the platform is solely based on peer to peer block distribution and purchase.
Zardicon blockchain is resistant to modification of data, because it is "an open, distributed ledger" that record transactions between two parties efficiently in a verifiable and permanent way.
The basic strategy that controls all Block Asset Trade on Zardicon is the common interest of every trader on the platform. Here, every trader trades to earn a decentralized interest of 5% per block transaction.
Zardicon block asset price accumulates per transaction made on the block at any given time. On this platform, each trader gains 5% on every block sold.
NB: Zardicon trade is not CFD (Content For Difference) trade system, Pyramid Trade or Crypto Currency Mining investment. It is a digital platform where you purchase mined Block Asset. The system Auto-trades your block asset within 0 second to 72 hours (this means your asset can be sold anytime within this time frame) then returns back your Trade Asset with interest of 5%.
Trade Protection
Zardicon trade platform strategy is intelligently fortified in way that traders do not lose Trade Funds. Traders make 5% profit for every transaction and can terminate trade and withdraw funds at any time.
To trade successfully on Zardicon, you must read and understand how Zardicon Trade works.
Brief Insight
All trades on Zardicon are automatic. This means that when a trader buys Block Assets, Zardicon Trade System automatically sells the block and returns traders capital with 5% profits to the individual trader.
Zardicon blocks cannot be stored.
No outside trading of Zardicon blocks, no referrals and no transfer or block exchange is done between traders.
All traders identity remain anonymous and are represented with a hash code.
Zardicon Prime_bot recognizes trader hash and records all transactions executed by traders in Zardicon Ledger.
Zardicon is powered by Zardicon Trade LTD. A company committed to the use and application of Blockchain Technology to invent the First Digital Block Trading platform in the world. This is the first application in the world applying blockchain to trade digital blocks. The platform algorithm ensures that her traders do not lose money.
Zardicon Goal
Zardicon wishes to educate Africans on the application and implementation of practical use case of Blockchain Technology in trading digital blocks from the comfort of your homes. As long as you have a smart phone and internet, you can trade Zardicon blocks on Zardicon platform and make sustainable profit to solve your daily challenges.
Zardicon is committed to uplift the per capital income of African citizens who understand Zardicon Trading.
Zardicon wishes to achieve 125,000 traders on her platform within the next 90 days. This is her pre-launch goal , which started on October 23rd 2019 and will run through January 23rd 2020.
Zardicon's official launch in Nigeria is scheduled to hold on 25th January 2020. To climax her pre- lunch 90 days pioneer traders activation, Zardicon has set out a reward plan for her pioneer traders called Pioneer Reward. This reward is valued for 10,000,000 naira to be given to her top 20 pioneer traders in Zardicon within the 90 days Pre-lunch campaign. Details are found at www.zardicon.com under pioneer rewards ( terms and condition apply).
This reward is broken down from 1st position to 20th position, it covers a. Car cash bonus b. Travel cash bonus c. Apple mac book cash bonus d. Cash consolation prizes d. BMCT coin bonus .
Be among the first top 20 traders within the next 90 days and aspire to be among the top 20 Zardicon pioneer traders.
You want to learn more about Zardicon Trading? Look no further, Zardicon is currently holding training every Wednesday and Friday from 10am – 12pm and 2pm – 4pm at No 16 Yinusa Adenji Street off Muslim Avenue, Ikeja Lagos.
"Trade Zardicon blocks and gain 5% on every block sold".
With Zardicon Trade platform, you buy we sell.
Zardicon Trade Bonus
Zardicon Trade has officially implemented BMCT blockchain to offer trade token bonus in BMCT coin. This is another African application of BMCT blockchain to reward customers with consumer loyalty coins. As you trade Zardicon Blocks, you enjoy token bonuses in BMCT coins.
BMCT blockchain is a project powered by Beepmagnet Group, built around 11 used cases to support Consumer Loyalty on the blockchain which is currently trading at BITfxt exchange, with her wallet application on google play and iOS store. Application name : BMCToken .
Don't be left out in the innovation, join Zardicon pioneer traders movement by following Zardicon across on social media.
Attend at least one Zardicon Training to know more about this innovations. Register on Zardicon and study the Zardicon white paper.
Zardicon team looks forward to unveiling other aspects of this project at her official launch on the 23rd of January 2020.
Together, we will get there. See you at the top!
Note: The content of this article doesn't convene any investment intention of CryptoTvPlus. Any issue that may arise from any activity as a result of the use of this content bears no liability upon CryptoTVPlus.
CampusBCAT2019 in OAU Surpasses any known Record of Blockchain and Cryptocurrency Gathering in Africa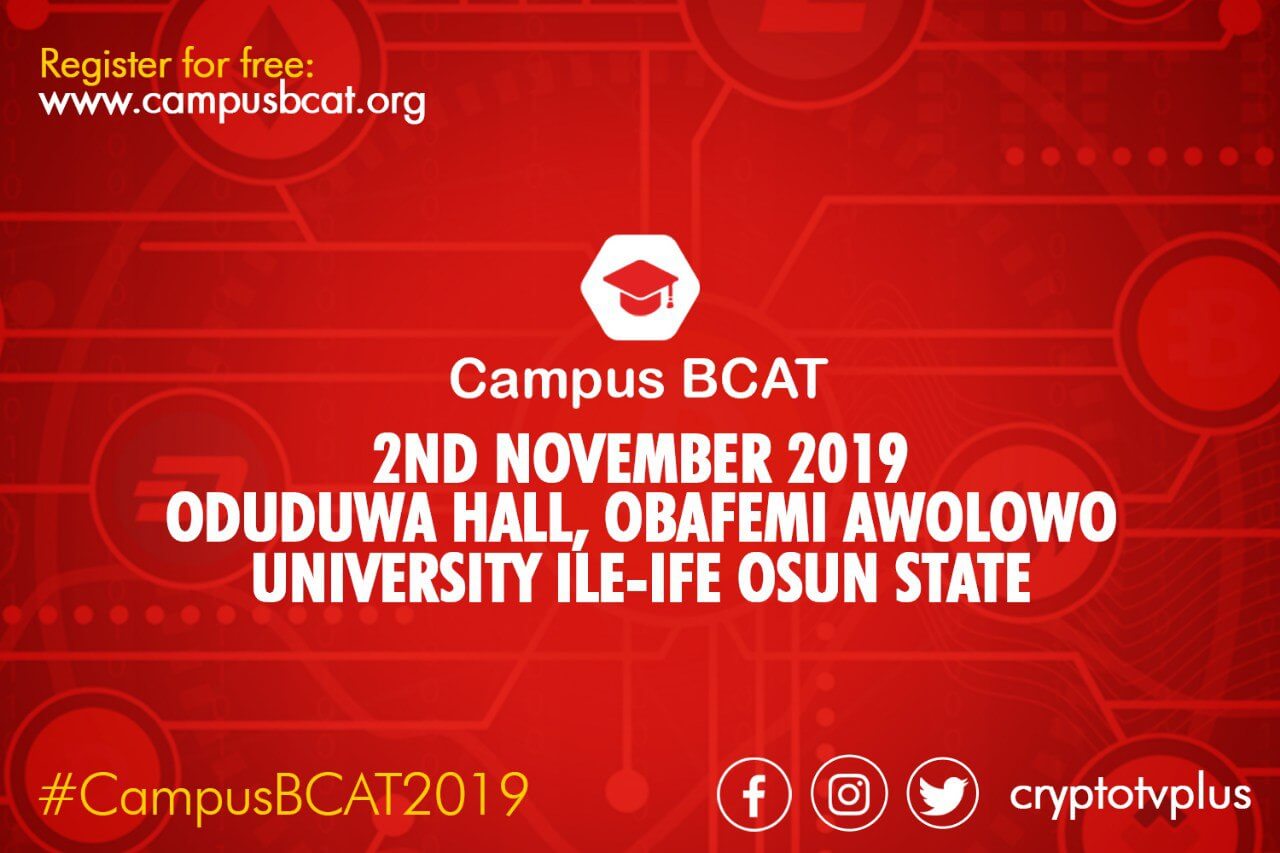 The recent CampusBCAT2019 event held in the prestigious Obafemi Awolowo University – OAU on the 2nd of November 2019, becomes the largest attendance in Blockchain and Crypto gathering in the whole of the African continent surpassing any known record of the Blockchain & Cryptocurrency gathering in terms of attendance in the whole of Africa.
Campus Blockchain & Cryptocurrency Awareness Tour, more popular with the acronym Campus BCAT is an initiative of CryptoTVPlus the premiere Blockchain and Cryptocurrency focused media house from Africa announced barely two months back.
The movement has seen enthusiasts in the form of students, newbies, established crypto gurus, blockchain solutions architects, etc gladly identifying with the initiative and propagating sound education as regards the blockchain technology making it undoubtedly the fastest growing Blockchain & Crypto community in the whole of the African continent.
As past events were held at the University of Ibadan and even at the University of Port Harcourt, CampusBCAT2019 in Obafemi Awolowo University witnessed a quantum improvement from the previous events.
The event at OAU held at the most sought after Oduduwa Hall known for its characteristic ambiance and also the capacity in terms of its size. The morning of 2nd November saw excited students pouring in to register and take their already reserved seats as they registered online prior to the event date. Sponsors such as ABiT Crowd, CoinCola, Vorem Network, Huobi Nigeria, Crypto Masterclass, etc, had the spotlight on them as eager participants thronged their exhibition stands to know more about their improved product and service offerings.
Charles Okaformbah of Vessel Trust, Samuel Joseph of CoinCola, Senator Ihenyen of Infusion Lawyers, Louis Dike, Dominic Rume, Kaka Toritseju, Onome Iduh, Chukwuemeka Ezike, Chinedu Obidiegwu, Gaius Chibueze who is better known as "bitcoin chief" who connected all the way from Manchester in the UK were all among the speakers who educated the curious students present to learn about the revolutionary impact of the blockchain technology and cryptocurrency.
With more than 3,900 participants attending the event not counting those who failed to register even both online and the event venue, sponsors and their team members, CampusBCAT2019 in OAU quickly surpasses attendance of the edition held at the University of Ibadan which recorded 1,356 persons in attendance or even Uniport which had a total of 4,228 persons in attendace entirely capturing everyone, participants, sponsors and their team members included.
Some of the students of the Obafemi Awolowo University had the rare opportunity of presenting their acts such as music or even talent hunt competition where winners were gifted prizes. ABiT Crowd, a Crowdfunding Real Estate company built on top of the blockchain was presented to the participants demonstrating the practical aspect of tokenization where large and immovable assets can be fractionally owned. ABiT Network also gave out a cash sum of One hundred thousand naira to 10 persons with each getting ten thousand naira each.
While the participants enjoyed every moment of the event, the usual crowning point of CampusBCAT saw the inauguration of BCAT Club, the legacy which CryptoTVPlus bequeath to any school where the Campus Blockchain & Cryptocurrency Awareness Tour is held.
A total of 30 students were inaugurated into BCAT Club and certificate of commendation issued to the members. Owolabi Jeremy Oluwasegun, a second-year law student of the Obafemi Awolowo University (OAU) was inaugurated as the first BCAT Club President OAU Chapter.
Tony Emeka, Co-founder & CEO of CryptoTVPlus, Organizer Convener of Campus BCAT said
We are indeed excited to be here for this event. Obafemi Awolowo University holds a special place in our hearts. I am sure we all know that CampusBCAT2019 has gained global recognition already.

This is the third school we are visiting and holding this event in Nigeria. At every successive outing of CampusBCAT2019, it has been successfully improved upon in terms of traction across several metrics. From publicity to the attendance and support from both the student bodies and our esteemed partners, there has been a noticeable improvement.

The members of BCAT Club OAU chapter will be the very first school to be issued a certificate of commendation for exemplary planning and execution skills. So much more is in the offing and my advice to the students in Nigeria is to take this golden opportunity very seriously,
he concluded.
Also speaking at CampusBCAT2019 in OAU, the COO of CryptoTVPlus, Head, Publicity and Planning Campus BCAT, Victor Ugochukwu in his keynote address was quoted saying
This movement was born out of the desire to drive proper, targeted and result-oriented enlightenment to the younger generations who in a few years will define where we go as a nation and as a society.
We have been to the University of Ibadan and University of Port Harcourt where we saw warmth and were welcomed with a large number of attending students.
He went further saying;
While we are confident that the CampusBCAT movement has gained a lot of traction and popularity among not just tertiary education students but also the broader blockchain and crypto community we are not resting on our oars as we must keep pushing to ensure the adoption hurdle when it comes to blockchain technology and cryptocurrency is brought low engendering easy access and participation either as a player or user.
CryptoTVPlus in partnership with EmpowerMeEOS a not-for-profit foundation founded by Toritseju Kaka handed out a free laptop as the star prize of the day to the winner of the Social Media Challenge which had the signature hashtag #CampusBCAT2019 trending across several social media platforms like Facebook, Twitter, and Instagram.
With a scintillating outing, CampusBCAT2019 in OAU has received several commendations not only from industries in Africa but also in Europe, Asia, and North America.
CampusBCAT has set a standard, a trend, a template that the industry can use to drive cryptocurrency and blockchain education. We have never been so excited at the promises of the future.