Nigeria's First-Ever EOS Blockchain Meet-up Happening Live In Lagos.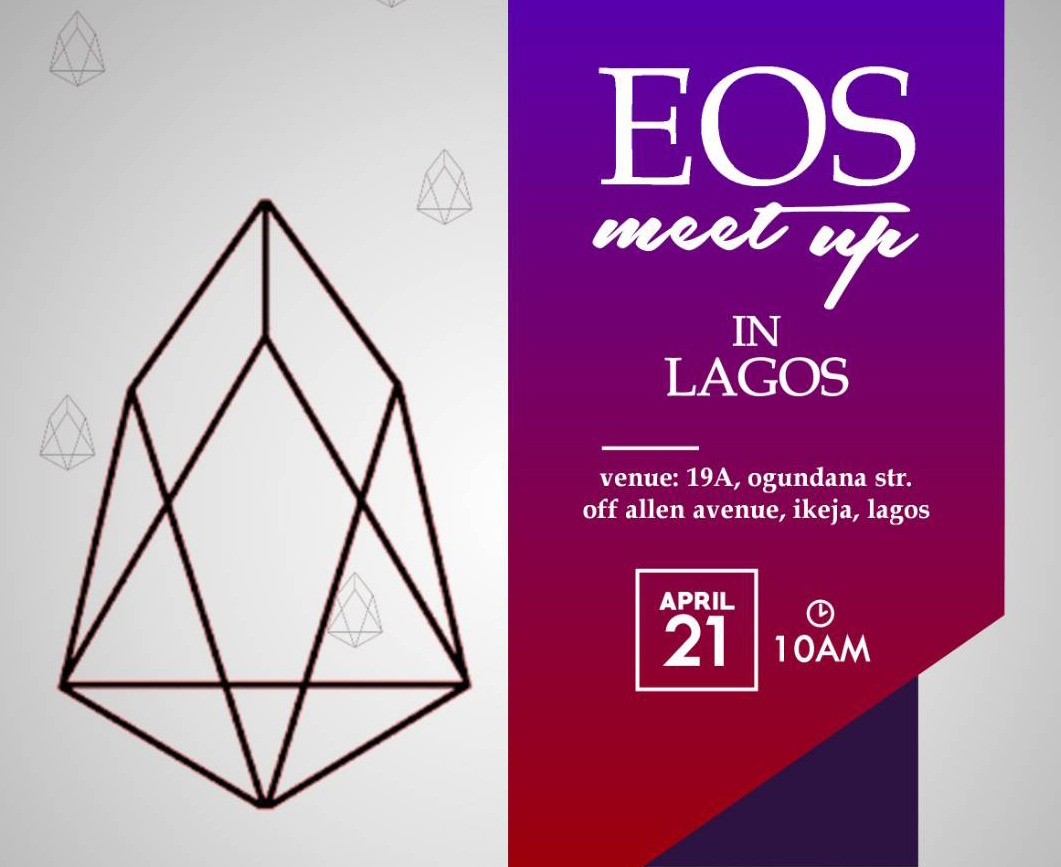 EOS is a blockchain operating system that is designed to be very flexible, to accommodate millions of transactions per second and to be very user-friendly. On April 21st, 2018, at 10:00 pm W.A.T, the first-ever EOS Meet-up will take place at 19A, Ogundana Street, Off Allen Avenue, Ikeja, Lagos, Nigeria.
It will bring about the dawn of a new era where programmers will have more incentive to build decentralized applications because it would be easier to do so given that the EOS software would provide a backbone that is fortified with a vibrant community, and a constitution and good governance structure. The EOS software would be free to use, unlike Ethereum which costs gas. All that is required to build on the network is a stake which would grant them access to the network. If you own 1% of the network, you have access to 1% of the computational power, 1% of the bandwidth, and 1% of the network storage. EOS would be super fast given the horizontal parallel scalability feature.
This is the third project that is being spearheaded by Dan Larimer. Dan Larimer, is the visionary creator of Bitshares and Steem who has earned the reputation of creating decentralized applications that are actually scalable and usable. Steem and Bitshares alone already perform more transactions per second than Ethereum and Bitcoin (check blocktivity.info to confirm this claim).
Dan has gotten wisdom and experience from creating Steem and Bitshares, now he is building EOS to be better and bigger than his two previous projects. EOS will be a general multipurpose platform for creating decentralized applications like Steem and Bitshares.
The EOS blockchain would be launched on the 1st of June and right now the third version of the EOS test net Dawn 3.0 is live. The EOS token distribution (ICO) has been going on for eleven months now. It will end on June 1st and then contributors would have their EOS ERC-20 tokens swapped for the precious EOS tokens. EOS uses the Dutch Auction method and investors place a bid for 2,000,000 EOS tokens distributed daily. The token distribution was designed to last for a year to ensure a fairer ICO where everyone gets a chance to participate and to prevent a situation where the whales just come and scoop up most of the tokens in a bid to dumb them on later investors.
The EOS tokens give bandwidth access to EOS holders to participate in the network and to vote for block producers and it is also the key to enjoy some delicious airdrops from DAP such as EOS DAC, Everypedia, EOSvibes, e.t.c.
The EOS meet-up is organized by Tojukaka who is very passionate about cryptocurrency and Blockchain technology! He is a cryptocurrency trader, investor, and EOS Nation Ambassador. He is supported by an awesome team of EOS enthusiast in Nigeria. He believes and lives to see a day when poverty and fear are eliminated from the world through education.
It is supported by block producer candidates: EOS cafe and EOS Nation and a vibrate team of EOS enthusiast here in Nigeria. It is rumoured that they are building an EOS sponsored facility that will enable them train the youths to be blockchain developers.
Block producers in the EOS Ecosystem are the equivalent of miners in Bitcoin. Just like miners, they validate transactions and secure the network. Unlike Bitcoin, however, EOS uses a Delegated Proof of Stake(DPOS) Consensus Algorithm where block producers which are elected by the community (through staked weighted voting), take turns to produce blocks every 0.5 seconds.
If you want to attend the first-ever EOS Meet-up in Lagos Nigeria, you can register by clicking on the link below. https://www.eventbrite.com/e/eos-meetup-tickets-45149506389
Blocktech Women Conference 2019- Showcasing Africa's Women In Blockchain
There has never been a conference like this! Women are taking the center stage in the blockchain industry all across the Atlantic and back home in Africa, be a part of this fully loaded Educative series.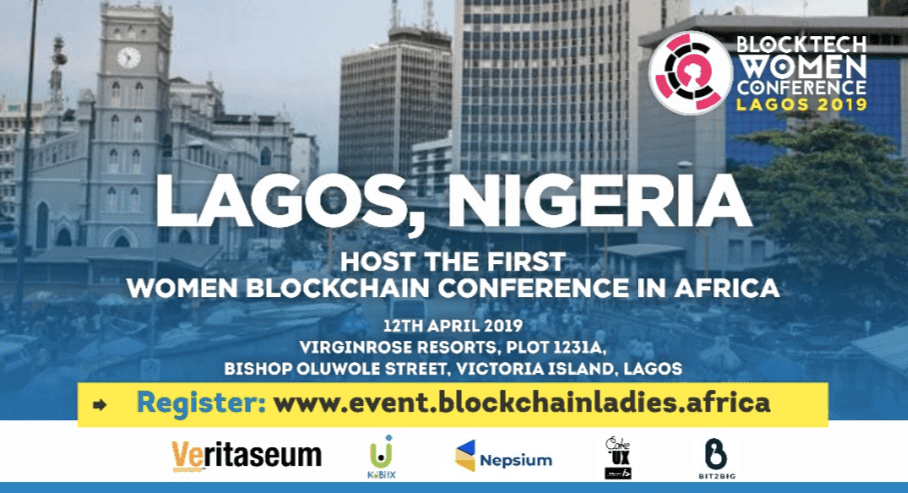 Blocktech Women Conference-2019 -the first female-driven blockchain conference in Africa built to reposition the mindsets of all female players in the blockchain industry has been put together by the Blockchain Association of Ladies BAL. It has never been this big and it would be held on Friday, 12th April 2019 at Virginrose Resorts, Victoria Island, 8 am prompt.
The Blocktech Women Conference 2019
The Conference is billed to educate and train attendees on various aspects of blockchain technology; Women And Blockchain, Digital Assets
Trading, Blockchain In Public & Private Sector, Blockchain In Supply Chain, Blockchain Application Programming & Coding, Personal & Business Branding, among others. Attendance is free for all and open to both males and females.
The above-listed wealth of information will be delivered by are our renowned speakers; Reggie Middleton, Founder, Disruptor-in-chief and CEO of Veritaseum (USA), Lorna M.Johnson, CFO at Advanced Family Care Medical Group Inc (USA), Alakanani Itireleng, Founder at Satoshi Centre (Botswana), Genevieve Leveille, Founder at AgriLedger (Jersey), Maureen L. Murat, Principal at Crowdie Advisors (USA), Linus Kingdom, Managing Editor at eBlockbuzz (Nigeria), Heaven Bereket, Founder at Bambino Foundation (Sweden), Lindsay Nuon, CEO at Women of Color In Blockchain (USA),Lucky Uwakwe, CEO at SABI Exchange (Nigeria), Doris Ojuederie, Founder at Blockchain African Ladies (Nigeria), Nathaniel Luz, Executive Director at Cheetah Africa (Nigeria), Faith Obafemi, Blockchain Lawyer (Nigeria), among others.
That's not all. The Veritaseum (USA) representatives will be on the ground at the Conference to train attendees on trading digital GOLD via the Blockchain. To get the training started, Veritaseum will be distributing about $17,000 worth of its VeGold asset to attendees who had already completed their KYC verification on the VeGold trading platform; https://dapp.veritaseum.com.
This freebie serves as support to the African woman. However, it is important for prospective attendees to get their KYC done and approved prior to the event to avoid unforeseen inconveniences. Queries about KYC Verification should be sent to https://t.me/joinchat/EytLU00P2FaVJTJ2sgApuQ
We are also pleased to inform you that representatives of SisiBox Period Subscription Package will be distributing 50 packs of their Combo Sanitary packs to 50 attendees at the Conference. SisiBox Lady Sanitary is designed to provide quality anion sanitary napkins for women at the lowest cost possible via the Blockchain technology while raising financially empowered and entrepreneurial driven ladies in the continent and beyond.
To qualify for the free Sanitary packs, prospective attendees are required to register via the link below and thereafter give out their personal link to friends for registration: https://sisibox.com/blockwoman. The top 50 attendees with the highest referrals will each receive the SisiBox Combo Female Sanitary.
The 2019 Blocktech Women Conference team will be waiting to welcome you at Virginrose Resorts, Victoria Island, Lagos on April 12, 2019.
Contact: Doris Ojuederis, Senior Convener, Blocktech Women Conference +2348095973066 – doris@blockchainladies.africa