Nigeria's First-Ever EOS Blockchain Meet-up Happening Live In Lagos.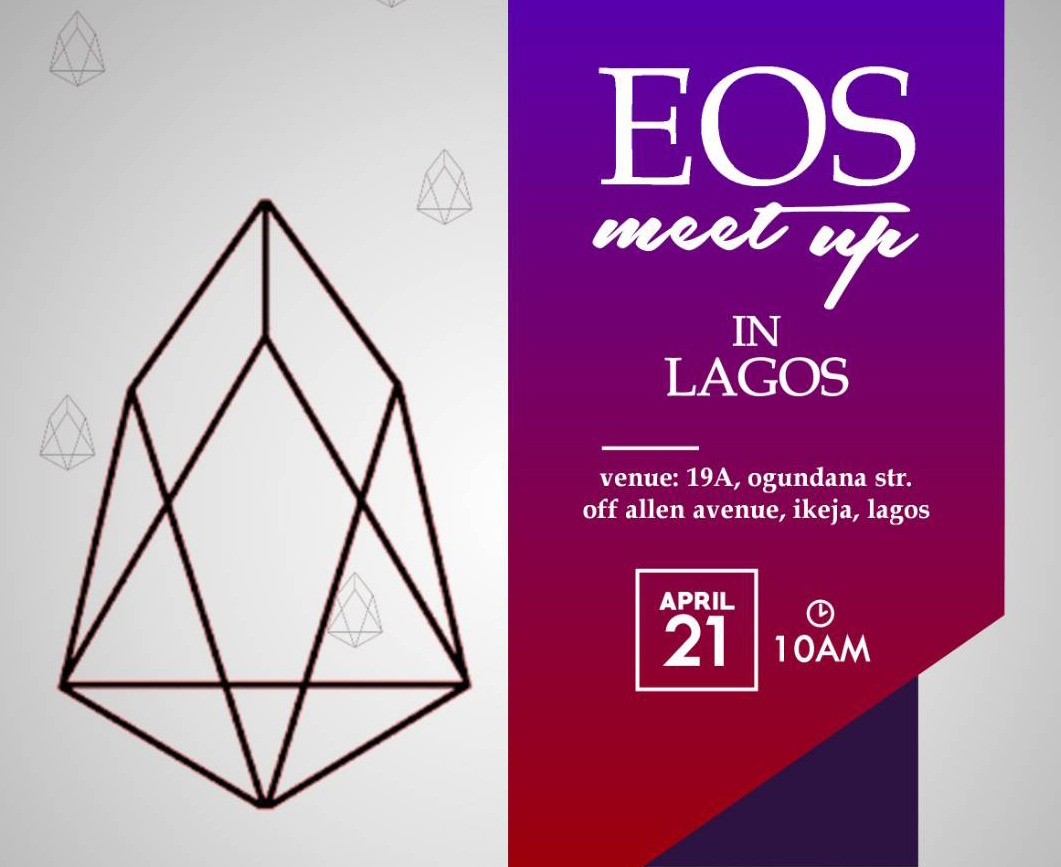 EOS is a blockchain operating system that is designed to be very flexible, to accommodate millions of transactions per second and to be very user-friendly. On April 21st, 2018, at 10:00 pm W.A.T, the first-ever EOS Meet-up will take place at 19A, Ogundana Street, Off Allen Avenue, Ikeja, Lagos, Nigeria.
It will bring about the dawn of a new era where programmers will have more incentive to build decentralized applications because it would be easier to do so given that the EOS software would provide a backbone that is fortified with a vibrant community, and a constitution and good governance structure. The EOS software would be free to use, unlike Ethereum which costs gas. All that is required to build on the network is a stake which would grant them access to the network. If you own 1% of the network, you have access to 1% of the computational power, 1% of the bandwidth, and 1% of the network storage. EOS would be super fast given the horizontal parallel scalability feature.
This is the third project that is being spearheaded by Dan Larimer. Dan Larimer, is the visionary creator of Bitshares and Steem who has earned the reputation of creating decentralized applications that are actually scalable and usable. Steem and Bitshares alone already perform more transactions per second than Ethereum and Bitcoin (check blocktivity.info to confirm this claim).
Dan has gotten wisdom and experience from creating Steem and Bitshares, now he is building EOS to be better and bigger than his two previous projects. EOS will be a general multipurpose platform for creating decentralized applications like Steem and Bitshares.
The EOS blockchain would be launched on the 1st of June and right now the third version of the EOS test net Dawn 3.0 is live. The EOS token distribution (ICO) has been going on for eleven months now. It will end on June 1st and then contributors would have their EOS ERC-20 tokens swapped for the precious EOS tokens. EOS uses the Dutch Auction method and investors place a bid for 2,000,000 EOS tokens distributed daily. The token distribution was designed to last for a year to ensure a fairer ICO where everyone gets a chance to participate and to prevent a situation where the whales just come and scoop up most of the tokens in a bid to dumb them on later investors.
The EOS tokens give bandwidth access to EOS holders to participate in the network and to vote for block producers and it is also the key to enjoy some delicious airdrops from DAP such as EOS DAC, Everypedia, EOSvibes, e.t.c.
The EOS meet-up is organized by Tojukaka who is very passionate about cryptocurrency and Blockchain technology! He is a cryptocurrency trader, investor, and EOS Nation Ambassador. He is supported by an awesome team of EOS enthusiast in Nigeria. He believes and lives to see a day when poverty and fear are eliminated from the world through education.
It is supported by block producer candidates: EOS cafe and EOS Nation and a vibrate team of EOS enthusiast here in Nigeria. It is rumoured that they are building an EOS sponsored facility that will enable them train the youths to be blockchain developers.
Block producers in the EOS Ecosystem are the equivalent of miners in Bitcoin. Just like miners, they validate transactions and secure the network. Unlike Bitcoin, however, EOS uses a Delegated Proof of Stake(DPOS) Consensus Algorithm where block producers which are elected by the community (through staked weighted voting), take turns to produce blocks every 0.5 seconds.
If you want to attend the first-ever EOS Meet-up in Lagos Nigeria, you can register by clicking on the link below. https://www.eventbrite.com/e/eos-meetup-tickets-45149506389
AFRICA'S PREMIER CRYPTOCURRENCY EXCHANGE UNVEILS ASTOUNDING FEATURES.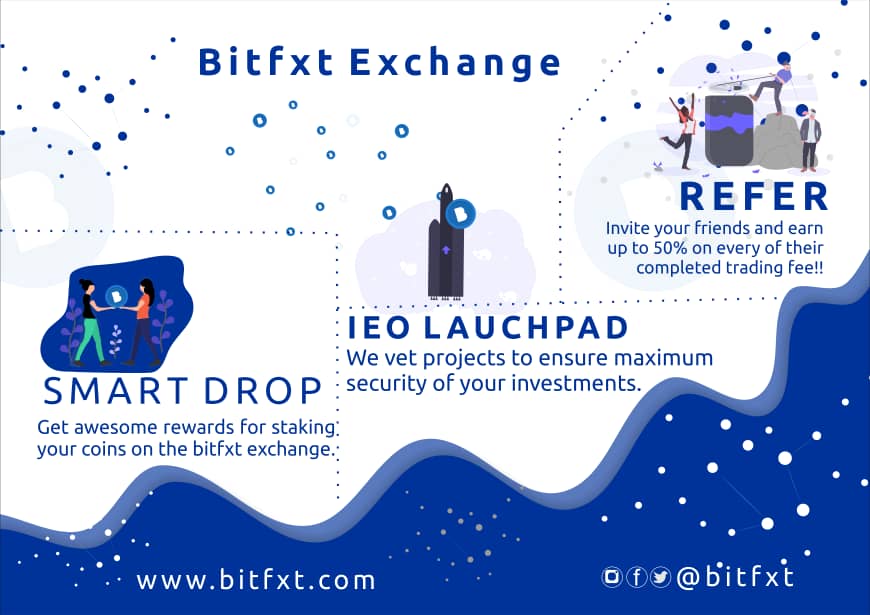 Bitfxt, Africa's leading cryptocurrency exchange has released new features.
The exchange which is now live, incorporates features which enable users make transactions at top speed, spend their cryptocurrency effortlessly, enjoy maximum security on their investments and get mouth watering rewards. Some of these features include:
The boundlesspay prepaid card which is directly linked to users' accounts,

A smart drop feature which allows users earn monthly rewards in the form of various cryptocurrencies, for staking their coins.

A voting function which helps users vote for their favorite coins to be listed on the exchange.

An IEO feature through which new projects are vetted to en able users have access to new cryptocurrencies

which will be listed and at lower prices.

A chat feature which fosters communication amongst users.

A referral program which helps users earn amazing rewards when they bring new people on board.
And lots more.
"Bitfxt is a masterpiece that was created out of the desire to make the blockchain system easily accessible by the African populace. We have put in a lot of work to ensure that we deploy state of the art features that will make it easy for people to have an enjoyable trading experience" said Franklin Peters, Ceo Bitfxt.
In order to give back to the community, Bitfxt has launched an Initial Exchange Offering for the Boundlesspay Coin (BXTC), on two platforms: shortex.net and bitfxt.com. The Initial Exchange Offering (IEO) will be run for 30 days and about three million coins will be available to the general public at a premium for that duration of time. At the end of the IEO, trading will begin for Bxtc on Shortex exchange, Bitfxt exchange and other exchanges to be announced soon.
"The significance of this coin is that it is a utility token that can be used globally. It can be used to pay for services such as utility bills, mobile top -up, data subscription, as well as flight and hotel bookings.These payments can be made at a discount at our platform, www.boundlesspay.co -which is one of the innovations created by Bitfxt. " Franklin Peters added.
As evidenced by an impressive track record of providing solutions which truly work and are used by thousands of people round the globe, Bitfxt is constantly striving for excellence. The boundlesspay pay prepaid card enables users to spend their cryptocurrency in a seamless manner and the entire ecosystem is centered around facilitating cryptocurrency adoption all over the world. Also, a dedicated team of experts is working relentlessly to ensure that users have a pleasant experience while using the platform and do not experience any hitches.
Bitfxt is currently running bounties on twitter and Instagram respectively. Interested participants can join in by getting their friends to follow @bitfxt, like posts and mention their names in the comments sections. The person with the highest number of invited followers wins.
About Bitfxt:
Bitxt is one of the best digital currency companies in the world. with a team of over 60 technology and finance experts, operating across several countries and continents. Our products and services make it safe and easy for people and businesses to store, buy, use and learn about digital currencies like Bitcoin and Ethereum. Our vision is to empower billions of people by bringing digital currencies like Bitcoin and Ethereum to everyone, everywhere.
Register today at www.bitfxt.com