Nigeria's First-Ever EOS Blockchain Meet-up Happening Live In Lagos.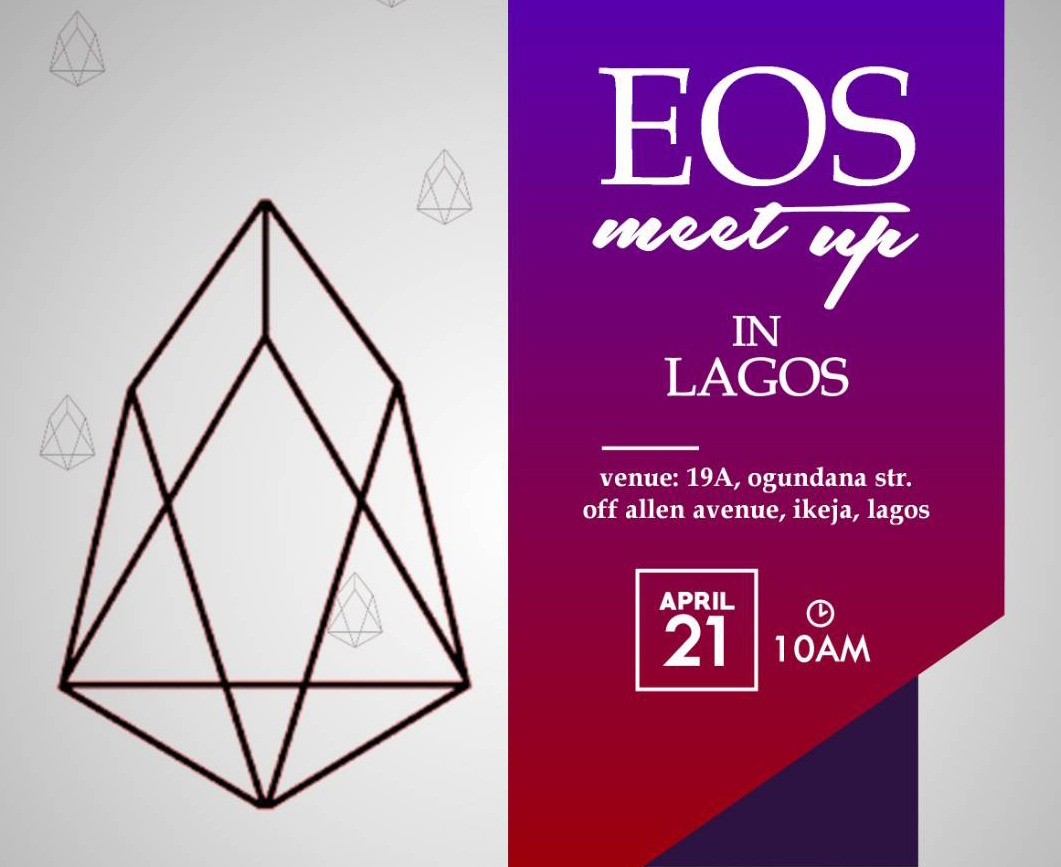 EOS is a blockchain operating system that is designed to be very flexible, to accommodate millions of transactions per second and to be very user-friendly. On April 21st, 2018, at 10:00 pm W.A.T, the first-ever EOS Meet-up will take place at 19A, Ogundana Street, Off Allen Avenue, Ikeja, Lagos, Nigeria.
It will bring about the dawn of a new era where programmers will have more incentive to build decentralized applications because it would be easier to do so given that the EOS software would provide a backbone that is fortified with a vibrant community, and a constitution and good governance structure. The EOS software would be free to use, unlike Ethereum which costs gas. All that is required to build on the network is a stake which would grant them access to the network. If you own 1% of the network, you have access to 1% of the computational power, 1% of the bandwidth, and 1% of the network storage. EOS would be super fast given the horizontal parallel scalability feature.
This is the third project that is being spearheaded by Dan Larimer. Dan Larimer, is the visionary creator of Bitshares and Steem who has earned the reputation of creating decentralized applications that are actually scalable and usable. Steem and Bitshares alone already perform more transactions per second than Ethereum and Bitcoin (check blocktivity.info to confirm this claim).
Dan has gotten wisdom and experience from creating Steem and Bitshares, now he is building EOS to be better and bigger than his two previous projects. EOS will be a general multipurpose platform for creating decentralized applications like Steem and Bitshares.
The EOS blockchain would be launched on the 1st of June and right now the third version of the EOS test net Dawn 3.0 is live. The EOS token distribution (ICO) has been going on for eleven months now. It will end on June 1st and then contributors would have their EOS ERC-20 tokens swapped for the precious EOS tokens. EOS uses the Dutch Auction method and investors place a bid for 2,000,000 EOS tokens distributed daily. The token distribution was designed to last for a year to ensure a fairer ICO where everyone gets a chance to participate and to prevent a situation where the whales just come and scoop up most of the tokens in a bid to dumb them on later investors.
The EOS tokens give bandwidth access to EOS holders to participate in the network and to vote for block producers and it is also the key to enjoy some delicious airdrops from DAP such as EOS DAC, Everypedia, EOSvibes, e.t.c.
The EOS meet-up is organized by Tojukaka who is very passionate about cryptocurrency and Blockchain technology! He is a cryptocurrency trader, investor, and EOS Nation Ambassador. He is supported by an awesome team of EOS enthusiast in Nigeria. He believes and lives to see a day when poverty and fear are eliminated from the world through education.
It is supported by block producer candidates: EOS cafe and EOS Nation and a vibrate team of EOS enthusiast here in Nigeria. It is rumoured that they are building an EOS sponsored facility that will enable them train the youths to be blockchain developers.
Block producers in the EOS Ecosystem are the equivalent of miners in Bitcoin. Just like miners, they validate transactions and secure the network. Unlike Bitcoin, however, EOS uses a Delegated Proof of Stake(DPOS) Consensus Algorithm where block producers which are elected by the community (through staked weighted voting), take turns to produce blocks every 0.5 seconds.
If you want to attend the first-ever EOS Meet-up in Lagos Nigeria, you can register by clicking on the link below. https://www.eventbrite.com/e/eos-meetup-tickets-45149506389
Dash Crypto Adoption and Use Converge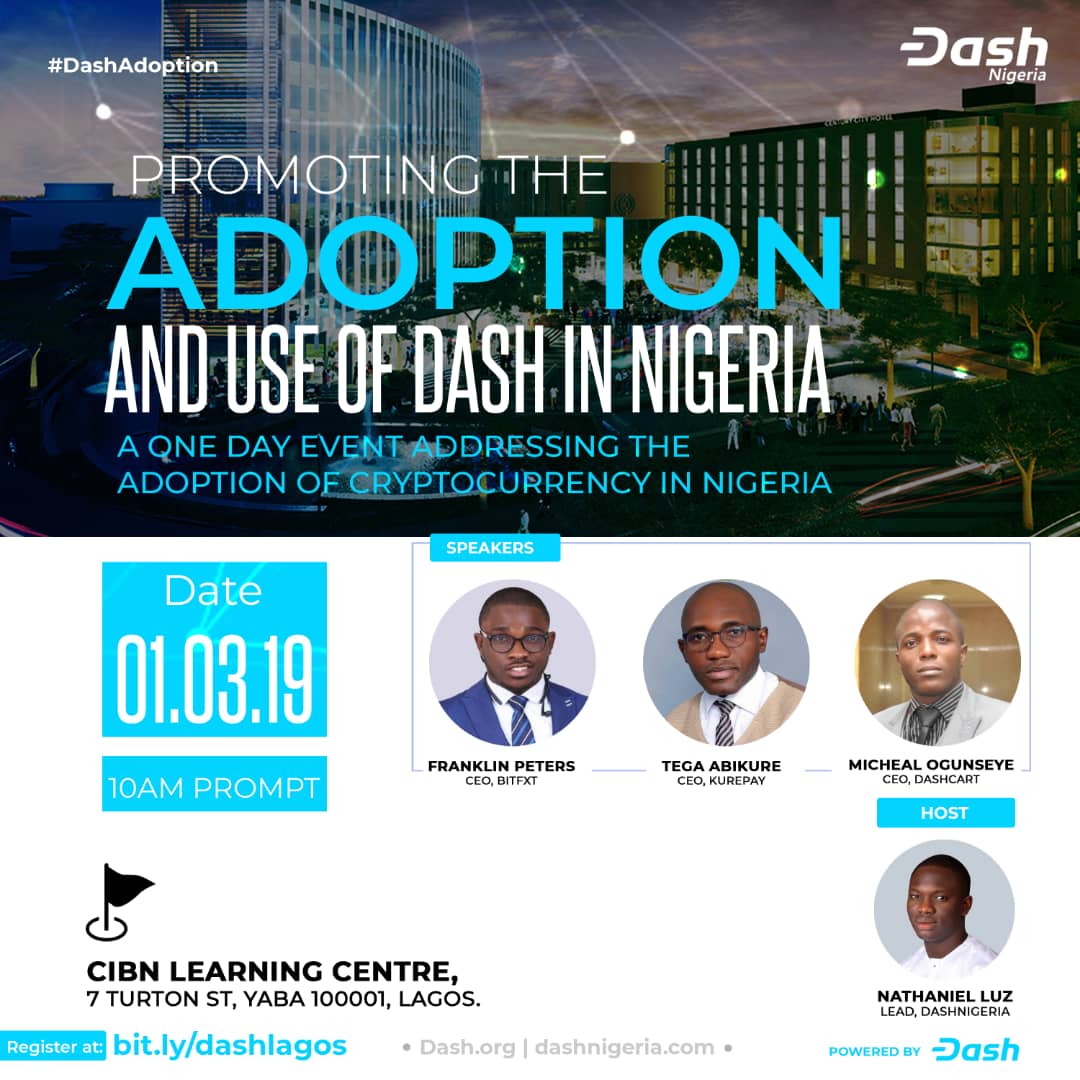 Although cryptocurrency is a viable solution to the issues in the banking and financial sectors, many are still unaware of its potentials. The most prevalent challenge the blockchain faces, all over the world, today, is the lack of adoption by many. This is even more evident in the way it is conceived by many – a way of making more money by buying cryptocurrencies when the price is still low, and selling them when it has really appreciated.
The Bitcoin blockchain, for example, was mostly utilized for the purpose of making extra money, as the price was seen to have risen terribly high over a short period of time – sometimes by a factor of 10, 20 or even more. This, however, is not what the blockchain is meant to achieve, and the misconception of it is one of the reasons why cryptocurrencies are not finding practical and convenient use.
The goal of the cryptocurrencies is to create a more convenient way of making financial transactions. It aims to end the incongruences that are prevalent in the banking and financial system, the lack of access to personal financial details, and the insecurity of finances in the current banking system, putting back power and direct access to one's finance. Moreover, it also aims to simplify financial relationships between different individuals regardless of their locations.
A Look At Dash Features
Being the first, the Bitcoin blockchain has gained more popularity than other cryptocurrencies. However, it possesses some features that make the adoption of cryptocurrencies to be difficult for many. One of them is the problem of scalability which is the ability of technology to adapt to bigger changes – Bitcoin grew slower when the number of users increased drastically. Now, it takes between 10 minutes and, sometimes, 2-3 days for a transaction to be successful.
Dash cryptocurrencies, however, is built to remedy this problem. It is a two-tier blockchain network that features a masternode. With this masternode feature, transactions are as fast as 5 seconds, and can even be as fast as 0.5 seconds using the Dash InstantSend feature. So, it is more feasible to make financial transactions easily and faster with Dash cryptocurrency compare too many other cryptocurrencies.
Another feature on the Dash blockchain that makes it a more adoptable cryptocurrency is the limit of transaction. To transact on the Bitcoin blockchain, for example, a minimum amount of 3 USD is required. This implies that, if someone wants to buy an item that costs about 1 USD, they can't use Bitcoin as a means of payment. Dash, on the other hand, allows a minimum of 0.3 USD, making it possible to purchase an item, no matter how low the price is.
The adoption of Dash in Nigeria has been impressive so far, which has made it one of the leading cryptocurrencies to be widely adopted by merchants. The benchmark for Dash utility in Nigeria can be attributed to how it is being used, its trading rate and holders. This has been made possible by lots of innovative features that have been integrated into Dash like Dash Masternode, Instant Send, Private send and soon-coming ChainLock feature.
However, Dash is yet to realize its ultimate adoption goal which is to dominate the whole of Africa. It aims to become the primary means of exchange for Africans in such a way that Africans can purchase their everyday items like airtime recharge, food items, and so on. It would also become a means of paying bills, taxes, and more. Dash is set to become a massively adopted cryptocurrency in Africa, with low transaction fees on every transaction.
Dash is a viable cryptocurrency which will revolutionize financial transactions in Nigeria, but this can only be achieved if people are educated enough to understand how it works. This is the reason for the Dash Nigeria Conference.
About Dash Nigeria Conference
Dash Nigeria will be holding a conference on March 01, 2019, in Lagos themed: Promoting the Adoption and Use of Dash in Nigeria. This event will be one of the major events that will be taking place in Nigeria. It is slated to address the adoption of cryptocurrency in Nigeria.
There will be numerous speakers to address the ways to drive adoption, challenges being faced and getting into the economic system in Africa and Nigeria. Dash ambassadors will also be present to speak on the various ways merchant can get their businesses up and running with Dash and how Dash can be used for utility bills in our day-to-day lives.
So if you are in the neighborhood and would love to be there click here to register.
Disclaimer:
The Information provided on the website is designed to provide helpful information regarding cryptocurrency subjects. The content is not meant to be used, nor should it be used as a basis, foundational knowledge or prerequisite for decision making regards trading. Always do your own research and due diligence before placing a trade. We are not liable for any outcome based on any content found on the site.