Nigeria's First-Ever EOS Blockchain Meet-up Happening Live In Lagos.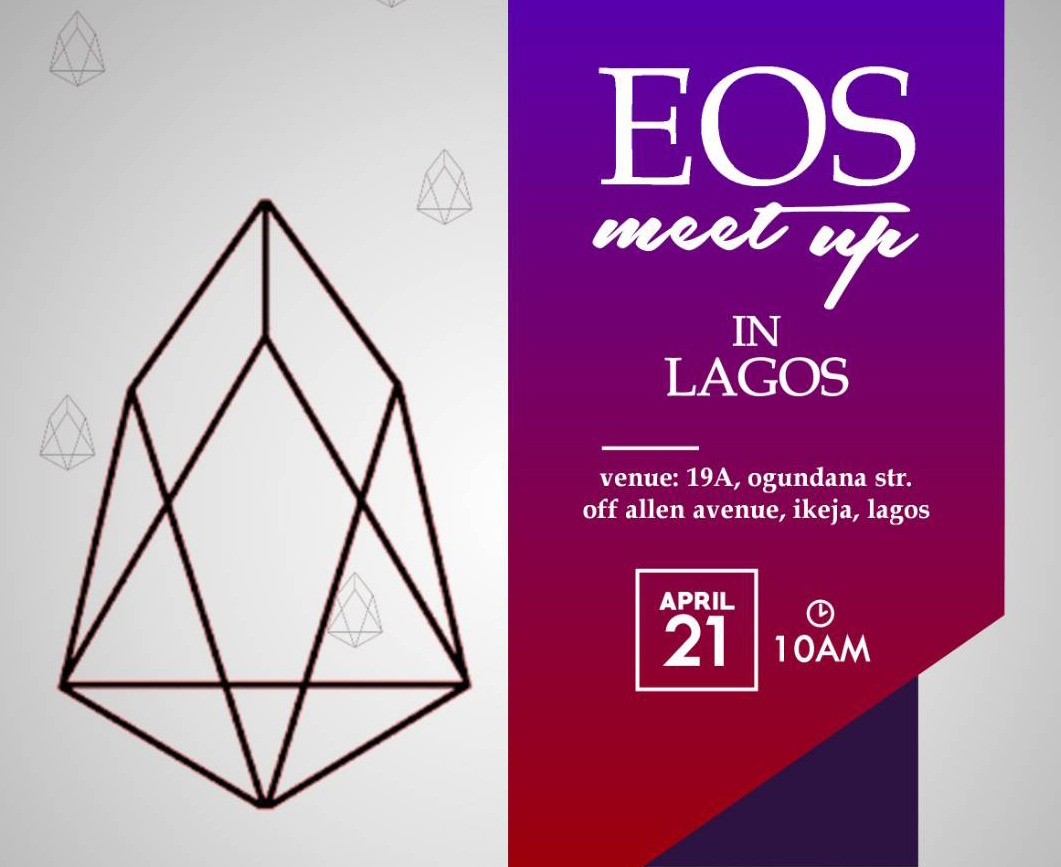 EOS is a blockchain operating system that is designed to be very flexible, to accommodate millions of transactions per second and to be very user-friendly. On April 21st, 2018, at 10:00 pm W.A.T, the first-ever EOS Meet-up will take place at 19A, Ogundana Street, Off Allen Avenue, Ikeja, Lagos, Nigeria.
It will bring about the dawn of a new era where programmers will have more incentive to build decentralized applications because it would be easier to do so given that the EOS software would provide a backbone that is fortified with a vibrant community, and a constitution and good governance structure. The EOS software would be free to use, unlike Ethereum which costs gas. All that is required to build on the network is a stake which would grant them access to the network. If you own 1% of the network, you have access to 1% of the computational power, 1% of the bandwidth, and 1% of the network storage. EOS would be super fast given the horizontal parallel scalability feature.
This is the third project that is being spearheaded by Dan Larimer. Dan Larimer, is the visionary creator of Bitshares and Steem who has earned the reputation of creating decentralized applications that are actually scalable and usable. Steem and Bitshares alone already perform more transactions per second than Ethereum and Bitcoin (check blocktivity.info to confirm this claim).
Dan has gotten wisdom and experience from creating Steem and Bitshares, now he is building EOS to be better and bigger than his two previous projects. EOS will be a general multipurpose platform for creating decentralized applications like Steem and Bitshares.
The EOS blockchain would be launched on the 1st of June and right now the third version of the EOS test net Dawn 3.0 is live. The EOS token distribution (ICO) has been going on for eleven months now. It will end on June 1st and then contributors would have their EOS ERC-20 tokens swapped for the precious EOS tokens. EOS uses the Dutch Auction method and investors place a bid for 2,000,000 EOS tokens distributed daily. The token distribution was designed to last for a year to ensure a fairer ICO where everyone gets a chance to participate and to prevent a situation where the whales just come and scoop up most of the tokens in a bid to dumb them on later investors.
The EOS tokens give bandwidth access to EOS holders to participate in the network and to vote for block producers and it is also the key to enjoy some delicious airdrops from DAP such as EOS DAC, Everypedia, EOSvibes, e.t.c.
The EOS meet-up is organized by Tojukaka who is very passionate about cryptocurrency and Blockchain technology! He is a cryptocurrency trader, investor, and EOS Nation Ambassador. He is supported by an awesome team of EOS enthusiast in Nigeria. He believes and lives to see a day when poverty and fear are eliminated from the world through education.
It is supported by block producer candidates: EOS cafe and EOS Nation and a vibrate team of EOS enthusiast here in Nigeria. It is rumoured that they are building an EOS sponsored facility that will enable them train the youths to be blockchain developers.
Block producers in the EOS Ecosystem are the equivalent of miners in Bitcoin. Just like miners, they validate transactions and secure the network. Unlike Bitcoin, however, EOS uses a Delegated Proof of Stake(DPOS) Consensus Algorithm where block producers which are elected by the community (through staked weighted voting), take turns to produce blocks every 0.5 seconds.
If you want to attend the first-ever EOS Meet-up in Lagos Nigeria, you can register by clicking on the link below. https://www.eventbrite.com/e/eos-meetup-tickets-45149506389
Introducing Cheetah Africa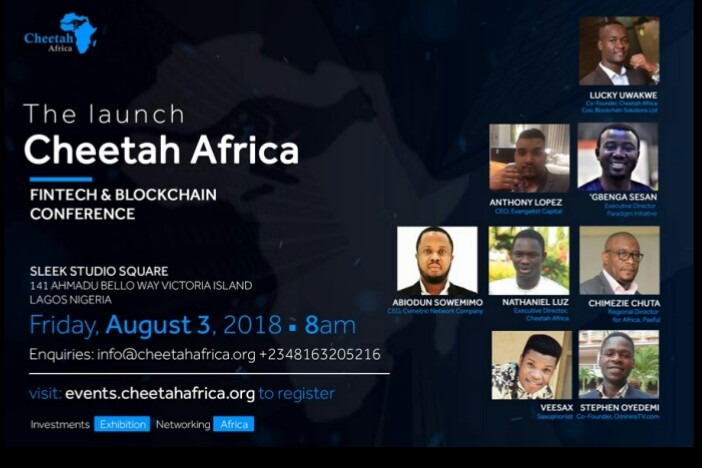 Lucky Uwakwe, 'Gbenga Sesan, Anthony Lopez, others set for Cheetah Africa Launch
Cheetah Africa is a non-profit that promotes the adoption and use of advanced technologies like the blockchain to see that Africa rises from underdevelopment. It aims at being the pool of African startups and innovations, providing support structures for African startups and ideas that will be needed for global relevance.
The launch is set to happen on August 3, 2018, in Lagos, Nigeria, with prominent speakers and venture capitalists such as Lucky Uwakwe, Co-founder of Cheetah Africa and COO, Blockchain Solutions, 'Gbenga Sesan, Executive Director, Paradigm Initiative, Ayo Daniels, The Lighthouse, Anthony Lopez CEO, Evangelist Capital, Chimezie Chuta, Regional Director, Africa, Paxful, Sowemimo Abiodun Alex, CEO CvMetric Network Company, Stephen Oyedemi Co-founder, OminiraTv and Nathaniel Luz Executive Director of Cheetah Africa.
The main discussion at the meeting will entail talks about unleashing the potential of Africa, and also getting and educating people about the potentials of blockchain technology and the role of Fintech companies. At the event, there will also be funding for a number of business ideas in Africa.
Speaking with the Executive Director – Nathaniel Luz; he said that "Everyone says that Africa will be; but we at Cheetah Africa say that Africa is now, Africa is in the present- this is what we are looking forward to. He says Cheetah Africa is set to end the brain drain Africa has suffered for decades by providing support structures that would enable African projects scale and that in five years' time, they would have hubs in every African country.
Conversing over the phone with Mr. Lucky Uwakwe – Co-Founder of Cheetah Africa; he said that Cheetah Africa will be aimed at making the African entrepreneur scale up by providing a platform that will make capitals and investors interested in their projects, startups, ideas, and initiative.
Register for free here: cheetahafrica.eventbrite.com